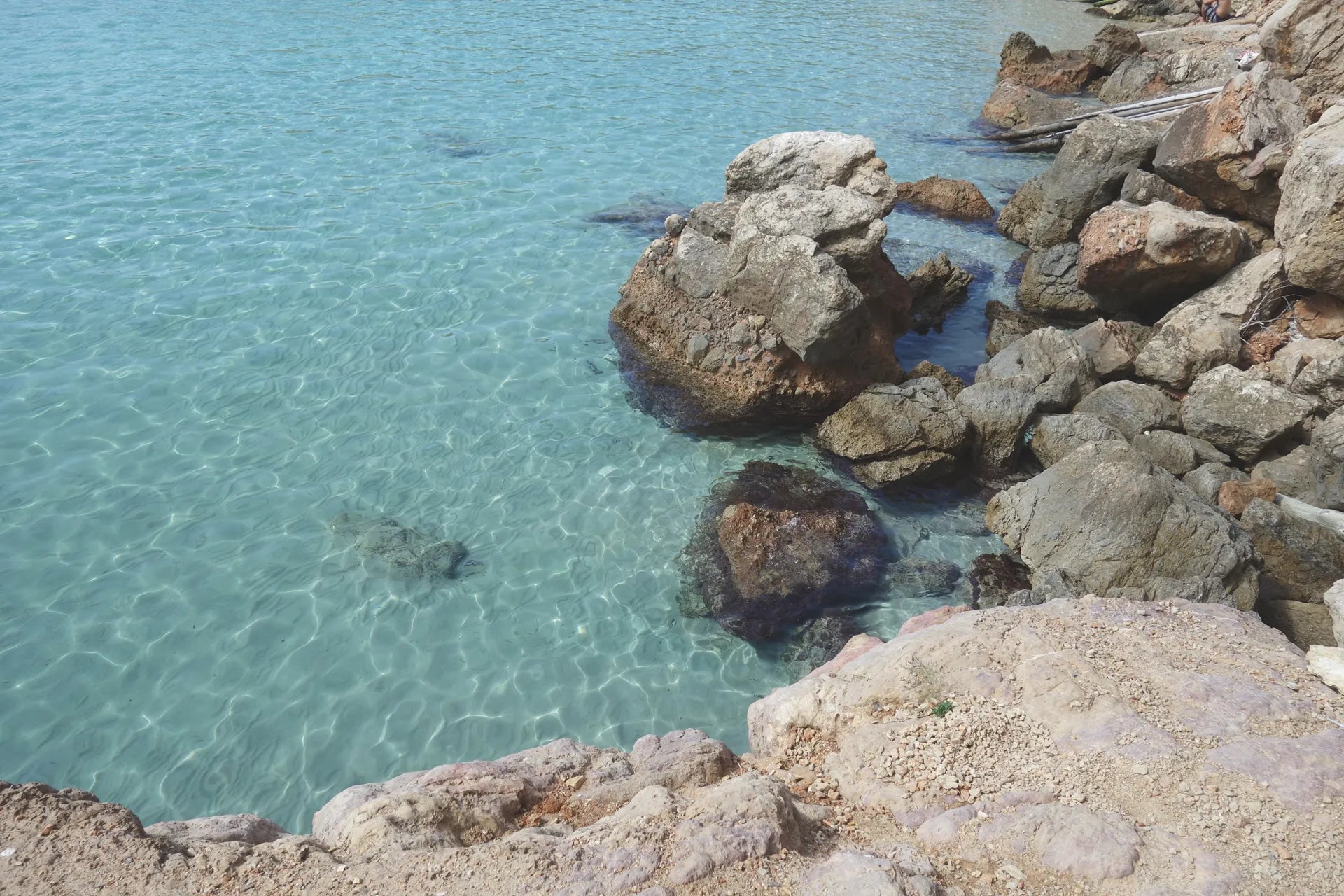 The beauty and nature of Ibiza is magnificent. The turquoise shimmering sea, lush green plants, white sand and the blue sky are creating a stunning picture. Ibiza offers many hidden treasures apart from the popular beach clubs and 'packed like sardines' bays. Some of them need a short hike to get there, but the reward afterwards is pure beauty, peace and a fantastic energy. In this article you'll find gorgeous beaches with crystal clear waters.

The beaches listed in this article were on my list for the Ibiza trip 2017. This magical island offers a lot more great spots for taking a relaxed sunbath or for just enjoying life and the nature. From now on I promise discovering new spots for you every year. By clicking on the name of the beach you'll find it in google maps.
Tip: most of the beaches listet here can only be reached by car or even better by Jeep.
This article is also available as podcast on iTunes.
Ibiza Beaches – The West
Located in the West and embedded in pine-wooded hills, with a sandy sea bed, Cala Saladeta is one of the most enchanting bays on the island. The clear, turquoise water invites you with it's shimmer, creating a fascinating picture with the colors of the surrounding nature. I could have stayed there for days.
This is one of the more popular beaches. The reason why I'd like to add it to this article is that it embodies the hippie feeling of the island. You might think: restaurants, umbrellas, why should this be a natural beach? Point number one is the sunset. Until mid of September you can watch one of the most beautiful sunsets at this place. Point number two are the hippies that are drumming down the sunset every Sunday evening. A magical happening.
Ibiza Beaches in the North
Countless smaller beaches can be found near Portinatx, in the North of the island. Those beaches are perfect for beach hopping, as they are located right next to each other. Locals and fishermen equally call this place their home.
If you've read my last years' Ibiza article, this one is not new to you. The Moon beach is one of the "secret beaches" of Ibiza and it's definitely not that easy to get there, but definitely worth it. After a bumpy car ride and a 15 minutes walk (some would call it a hike) through a peaceful and forlorn shrubbery and some rocks you will be surrounded by nothing but peace and silence. If you are meditating, you know what a power place is. This is definitely mine. Take some time and explore the rocks, then you will also understand why this place is called moon beach, because the stones are shaped like moon rocks. That's why I also recommend taking special shoes with you, getting into the water can be difficult.
Ibiza Secret Beaches – The South
If you are an adventurer Atlantis should definitely be on your list. It is one of the secret beaches and relatively lonely and therefore a bit hard to find (it took me twice to get there). Park your car at the lot of Es Vedra and follow the first path on your left. Watch out for small hints like written forms or small pieces of cotton that are showing the way. Make sure to wear sturdy shoes, as it takes you about 20-30 minutes to get there, also downhill in the sand. Just like the namesake, the rocky beach offers spectacular hidden tresures. In the former Sa Pedrera stone quarry, stones were sawn from the rock for the fortress wall of Ibiza town. The hippies of the 1960s interpreted them as walls and towers and called it Atlantis, which recalls the mystical sunken city.
Tip: after a day at Atlantis you should finish off the day with the sunset at the platform looking towards Es Vedra. Believe me, it will leave you stunned.
Formentera
If you are staying on the island for more than 5 days, I hardly recommend renting a boat and visiting the countless white beaches of Formentera. Es Palmador for example is actually a beach path and wonderful spot for long beach walks.
As I'll be travelling to Ibiza every year, there are already some new beaches on my list for next time. Should you've got a tip for me, join our Facebook community and let me know. I am looking forward to meeting you there!
0 comments