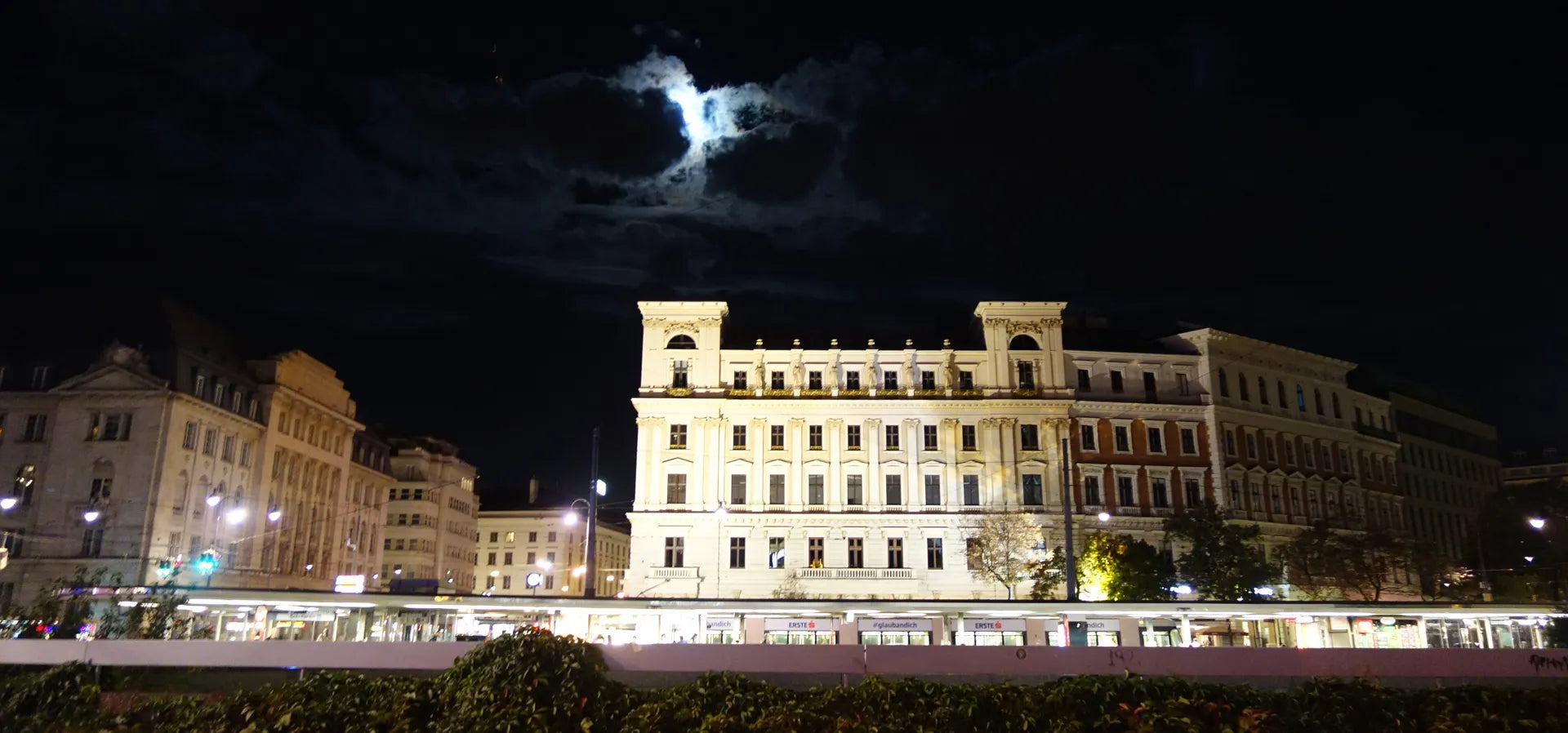 Vienna, the city of music. While most people have classical music and Schnitzel in mind when thinking about the Austrian capital, it actually has a lot more to offer. This travel guide for techno lovers takes you into the local electronic music scene and introduces you to authentic hotspots and must-visits. 
Transparency: in friendly cooperation with Telekom Electronic Beats & Hotel Brilliantengrund
One of the reasons to travel to Vienna was the Crowd & Rüben event of Telekom Electronic Beats in a beautiful castle on the countryside near Vienna end of September. On the line-up: The Irish duo Bicep, local hero Wolfram, as well as Anemona and JAX n TATE. The aim of this event series is to bring high quality in terms of electronic music to small towns on the Austrian countryside. After two raves on the mountains, one in a mining town and the second in a tower, this time the party took place at a castle near Vienna. Especially Wolfram heated up the crowd with his weird disco, 80ies, 90ies, 2000s and techno mix, where he even mixed a current Instagram-stories-theme. Get an impression of the event here.
Vienna's Electronic Music Scene 
Techno is not new to the Austrian city. When techno grew big in the 90ies, Vienna was a serious playground for clubbers. In the past years, the Pratersauna, Werk and many other clubs and festivals attracted DJs from all over the world. Hennes Weiss who ran the Pratersauna 2009-2016 and is initiator of many events and festivals, e.g. the Lighthouse Festival in Croatia and South Africa, which tunes&wings attended and reported about earlier this year.
The best Clubs in Vienna
If you want to find out more about the local scene, this video on the Electronic Beats website portrays the beginnings of techno in Vienna in 1992. Nowadays the focus of Vienna lies on the following clubs: Pratersauna, Grelle Forelle and Werk. The 'new' Pratersauna plays electronic music on two floors: The outdoor location 'Strandklub' with a pool and the indoor floor. 'The musical focus of Grelle Forelle is Techno, but the club showcases a variety of genres including House, Hip-Hop live shows and alternative concerts. The club's identity is not defined in terms of a restrictively narrow focus, but rather by an eclectic commitment to "underground" music of highest quality.' The location 'Werk' is not only a club, but an alternative art and culture initiative. Therefore it's home to art events, concerts and parties.
 Grelle Forelle
Hennes Weiss is revealing his personal Vienna hotspots for food, drinks, music, parks, shops, hotels and many more in this article:
Food: Mochi & Ansari both located at Praterstrasse – in his opinion one of the most beautiful streets of Vienna. Hennes says you can get the best pizza at Pizza Mari and the best local Austrian food at Schöne Perle.
Bars: X – which is a secret steak house and cocktail bar with a no-photo policy and therefore no website or facebook account.
Club: Hennes favorite Club is Grelle Forelle, which is also listed above.
On sunny days you might find him in the public park called Augarten, eating a croissant or baguette of his favourite bakery Joseph Brot. The place where Hennes likes to go shopping is the vintage store Burggasse 24 and his recommendation for a hair dresser – in case you want to pimp your head – is Propaganda. Should you be in Vienna for more than a weekend and need to do some emails, you might check out the coworking space ViennaBold.
Neighbourhood & Hotspots of Vienna
Vienna is organised in 23 districts, the so called 'Bezirke'. Every district stands for something. E.g. the first district is the most central and historical one. So if you are looking for the classical sightseeing, this is your place to be. If you are looking for the young and creative part of Vienna, the 7th district is your place to be. Home to many film- and video-production companies as well as textile industry, this area attracted countless artists,  bars, restaurants, art venues and vintage stores. The hotel concept Brilliantengrund, which you can find there as well, might not be noticed as trendy hotel from the outside, as it's quite old-fashioned and unremarkable. The aim of the hotel is not to be recognised as fancy design hotel only, but wants to offer a space for creatives, musicians and athletes from all over the world. A place where they can gather, exchange and let their ideas grow.
Marvin Mangalino, managing director of 'Hotel am Brilliantengrund' and huge racing cycle fan, is an enthusiast of 50ies and 60ies interior, that's why he enriches the original 70ies style with elements of the two centuries ahead constantly. A story to be continued. 'Hotel am Brilliantengrund' is also a place where friends and families of the circle around Marvin and his team come together. This might also be because of Marvin's mother, the chef of 'Pinoy Food', the hotel's restaurant where Mama Mangalino cooks unbelievable tasty, authentic Phillipine dishes.
Café Liebling is named after hat maker Liebling, who run his store there in the 30ies. Not new, but somewhere between hipster, old-fashioned and perfect for breakfast any day of the week. Birchermuesli, avocado bread with poached eggs, omelette as well as Shakshuka – find your 'Liebling' there!
Time for some cultural input. At gallery 'WestLicht' it's all about photography. Until October 2018 the 'World Press Photo 2018' exhibition takes place in Austrians biggest photography and camera museum. The regular entry is about 8 € and the bar invites to a glass of wine or coffee after strolling through the gallery. 'It is the seventeenth time in a row that WestLicht hosts the World Press Photo exhibition. As icons of the recent past, the awarded single images and photo series form a unique retrospective of last year's events, covering topics from the areas of politics, society, sports and nature.'
Food & Drinks of Vienna
In addition to Café Liebling and hotel/restaurant Brilliantengrund, located in the seventh district, the other areas of Vienna are made for foodies as well, beginning with the classical and biggest food spot this city has: The Naschmarkt. Countless stands string together and represent treats of the whole world as well as local goodies. Did you know that there are also restaurants? The in the meantime quite famous Neni Restaurant, which is part of many 25hours hotels, has it's origin in Vienna, so make sure to have a look inside the small restaurant at the Naschmarkt.
Mochi is a design restaurant in which Japanese cuisine is presented in a casual way. The restaurant at the Praterstrasse has only a few spots, that's why it's quite hard to get a table. Sushi, steaks, salads, rolls and other culinary highlights are waiting for you there. You are a ramen fan? Then you definitely should check out their ramen bar at Vorgartenstand.
The second thing that comes into your mind when thinking about Vienna is probably Schnitzel. A modern-urban restaurant that serves a traditional Schnitzel with tender meat and a crispy breading is restaurant Lugeck. You might know the big brother or father of this restaurant: The Figlmüller – or home of Schnitzel, if you would claim it. Surely one of the more commercial spots, but you shouldn't miss some traditional spots in this historical city. The restaurant is located in the so-called Lugeck street in the heart of Vienna and serves by far one of the best Schnitzel ever.
Just opposite in the same street, Labstelle opens its doors for gourmets with quality awareness but in a casual atmosphere. Breakfast, lunch menu or a fine dinner – the high-quality food is served by humorous waiters. 'With and without frills' is their claim, which boils it down to an essence. High quality and standard yes – affectations no.
This article was created in cooperation with Telekom Electronic Beats and Hotel Brilliantengrund.
0 comments