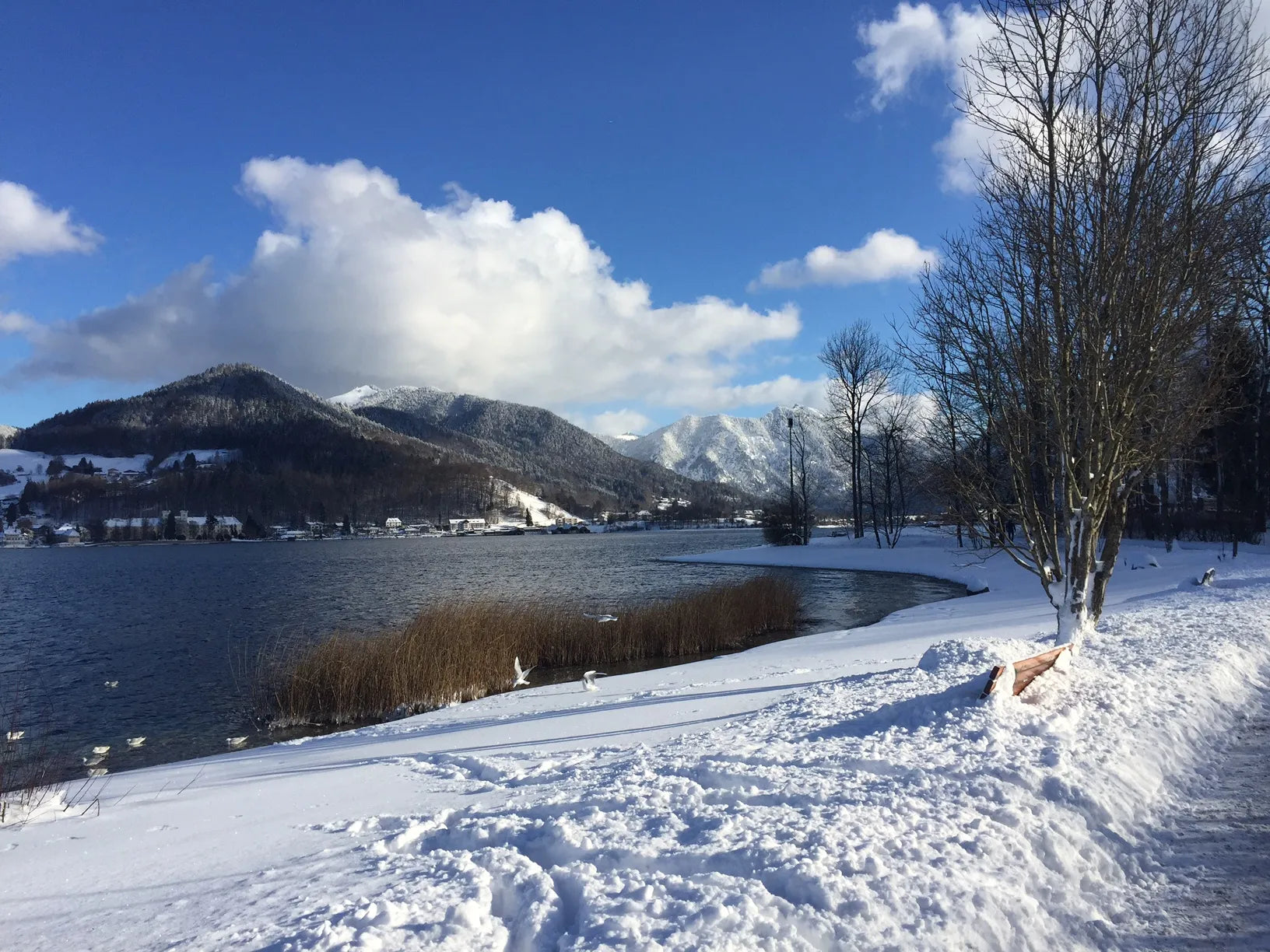 Why always travel to other countries when your homeland is that beautiful? Especially in the quiet wintertime, when the snow puts the whole area into winter sleep and you can enjoy the pure nature. The Tegernsee area with it's surrounding mountains is definitely a good destination for taking a breath.
Only 45 minutes drive from Munich, the wonderful nature and traditional Bavarian houses immediately bring you come back down. It's the perfect area for simply doing nothing or doing the relaxed stuff, e.g. enjoying a warm sauna at Seesauna Tegernsee. It's never too crowded there and one sauna is an old boat on the lake. Another feature is the possibility to  jump directly into the lake after a vitalising sauna steam treatment.
If you want to do some sports, there are smaller lifts in Kreuth, Point and Bad Wiessee. A larger ski area is 1 hour drive by car, at Spitzingsee. Another great work-out is a 2,5-3 h hike up to Wallberg. By arriving at the top of the mountain you will be rewarded by the wonderful view that allows you to even see Munich 50 km away.
By coming back to from a winter walk around the lake it's always a good idea to drink a cup of coffee at Aran. The concept is quite simple: local baked sourdough bread and roasted coffee from Rosenheim.
If you want to taste the traditional Bavarian food and enjoy a perfect quality, make sure to visit Gut Kaltenbrunn. The historic property is run by Munich-based Feinkost Käfer. We ordered pork roast with crackling and deer medallions. That was tasty and on point, give it a try!
When I am searching for exclusive and authentic boutique hotels for my travels, I always  take a look into the ELLE traveller magazine. In the guide No. 6 from 2016 two amazing chalets around the Tegernsee area are listed: The Leeberghof and the Relais-Chalet Wilhelmy. So if you are not from Bavaria you might give one of those a try. Another beautiful design hotel at Tegernsee is Bachmair Weissach. The spa and resort guarantees a relaxing time at the lake.
On top of my list for the next Tegernsee visit is Weissach Alm. The reason why: I love duck, dumplings and blue kraut. Make sure to make a reservation some days in advance. Also I can hardly recommend an after-dinner walk along the Weißach nearby Kreuth and in front of the restaurant.
Photo source: Diynamic Youtube
Article by Sabine
0 comments