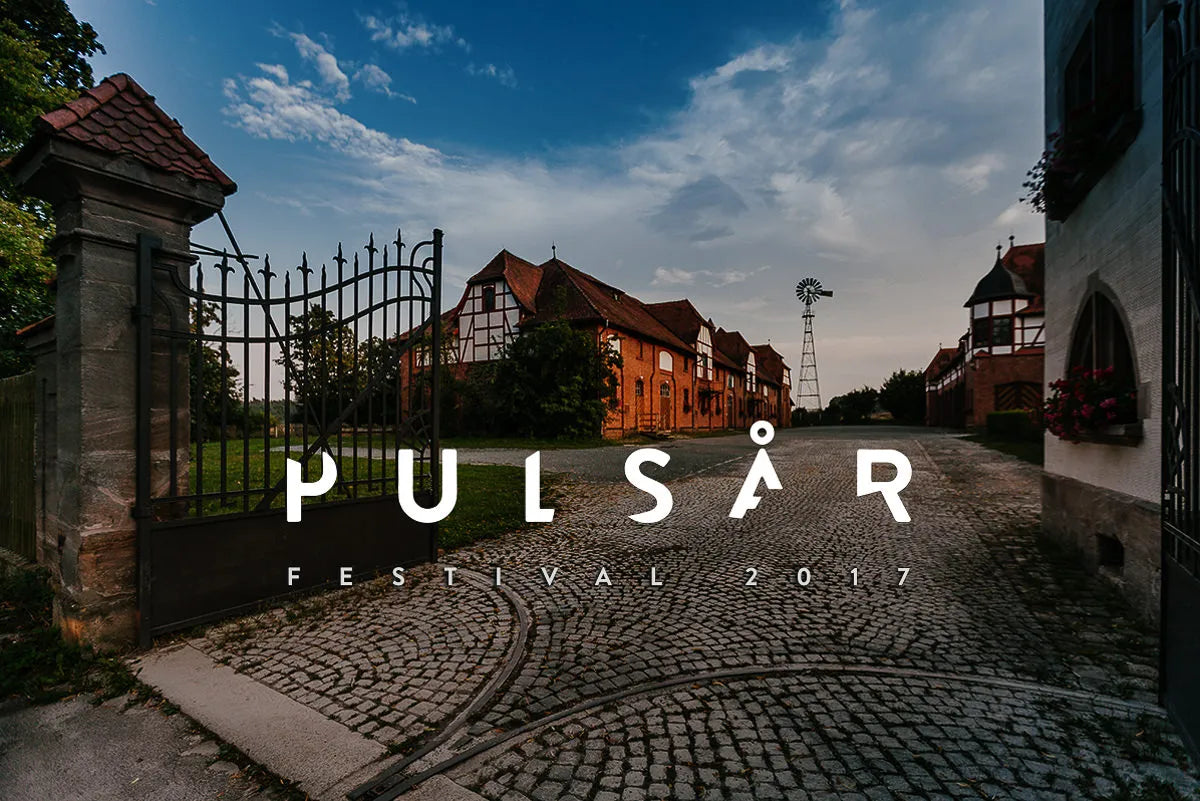 PULSÅR Festival
0 comments
Bavaria will get a new electronic music festival in summer 2017. On 10 June Nuremberg will be filled with smooth vibes and a thrilling bass. The festival organizers, which are already known for their X+ event in Rakete Nuremberg, spottet an off-location that will host the wonderful happening. Usually festivals in this area have more or less a similar line-up with artist that are known by a common ruck. That's why we are even more excited about this event. The line-up sounds like a nice summer breeze in our ears: Jeremy Underground, Fjaak, Vaal, Monolink, Sven Dohse, Marlon Hoffstadt, Leon Licht, Tecture, Resh, In-Common and David Benjamin. We are happy to present you our interview with the organizers and to give you the chance to win free tickets!
How would you describe the philosophy of the festival? / Wie würdet ihr die Philosophie des Festivals beschreiben?
We got into electronic music quite soon. We grew up with 'Die Rakete' and always wondered who'll play there next. At some point we realized that we didn't really care about the name of the artist but rather about the quality of his or her sound. This is how X+ was born at 'Die Rakete' where, until today, the name of the headliner will not be revealed beforehand. This created an awesome base of fans and friends in Nuremberg who are not interested in a single genre of electronic music but rather appreciate the variety of it. Consequently, we want to offer this variety at PULSÅR FESTIVAL 2017. We want invite people to participate. We want to create a space with good vibes, where people can discover all sorts of different variations of electronic music but also of culture and of art. This is why we invite regional artist to demonstrate their works.
Wir haben ziemlich früh angefangen elektronische Musik zu hören und zu feiern. Wir sind mit der 'Rakete' in Nürnberg groß geworden und haben uns immer die Frage gestellt, wer wohl als nächstes in der 'Rakete' spielt. Irgendwann dachten wir uns, dass es eigentlich egal ist welcher Name hinter dem DJ Pult steht, sondern dass die Qualität der Musik im Vordergrund steht, egal wie bekannt oder unbekannt der Künstler ist. Somit haben wir unsere X+ Serie in der 'Rakete' gestartet, bei welcher der Headliner vorab nicht verraten wird. Dementsprechend hatten wir eine super coole Base in Nürnberg, die nicht nur eine Richtung elektronischer Musik mag, sondern eben die Vielfalt dieser. Deswegen wollten wir diese Varietät auf dem PULSÅR FESTIVAL 2017 bieten. Wir möchten Leute dazu einladen. Wir möchten einen Platz mit guten Vibes kreieren, in welchem die Leute sämtliche Facetten entdecken können. Unsere Intension ist es, ein Feld für alle zu schaffen, die Musik, Kunst und Kultur begeistert sind.
'PULSÅR – a pulsating source of electronic music at an unknown venue.'
What's your booking concept? / Was ist euer Booking Konzept?
We want to invite people to participate in a project where they'll have access to the full panoply of electronic music. How famous the artist actually is plays only a role to a limited degree for us. The open air floor will open at noon with rhythmic and melodic sounds, perfectly matching the vibes of the location. At night things will get a bit more intense inside.
Wie oben erwähnt – Künstler die ihr Handwerk verstehen. Dabei achten wir nicht unbedingt auf die Bekanntheit ihrer Namen. Der Open Air Floor wird am Nachmittag mit rhythmischen und melodischen Klängen eröffnet werden, die perfekt die Vibes der Location treffen. Nachts geht's Indoor dann etwas intensiver zur Sache.
How will 10 June look like for electronic music lovers? / Wie wird sich der 10. Juni für Elektro-Fans gestalten?
So far we talked about our intention of bringing electronic music, in all its varieties, to PULSÅR FESTIVAL 2017. We'll also be providing a design market for local designers, where they'll be to present and sell their own creations. This includes handmade bags and accessories. Furthermore, local artists will build sculptures, take care of the decoration and use the Festival as an exhibition. And last but not least, we'll have two stages: one outdoor floor and one indoor floor, starting at 10 pm.
Bisher haben wir über unsere Intension gesprochen, elektronische Musik in all seinen Facetten  auf das Festival zu bringen. Abgesehen von der Musik werden wir einen kleinen Designmarkt mit lokalen Designern vor Ort haben. Diese werden dort die Möglichkeit haben, ihre eigenen Kreationen auszustellen oder zu verkaufen. Das geht von selbstgemachten Taschen bis hin zu Accessoires. Zudem werden wir lokale Künstler haben, die Skulpturen bauen, welche ein Teil der Deko ausmachen. Und zu guter letzt bieten wir zwei Stages: einen Outdoor und ab 22h einen Indoor Floor.
When and how did the idea of organising a festival rise? / Wann und wie seid ihr auf die Idee gekommen, ein Festival ins Leben zu rufen?
The idea originally for PULSÅR FESTIVAL 2017 arose because of the events we were making in 'Die Rakete' and various other off locations. We really enjoyed what we were doing and saw a huge potential in Nuremberg. On the one side you'll find many people in Nuremberg who love electronic music but on the other side the possibilities on the weekend are quite limited. The incredible location in which we fell in love with influenced our choice as well.
Die Idee, die ursprünglich für das PULSÅR FESTIVAL 2017 entstand, entstand wegen der Events, die wir in den Rakete und verschiedenen anderen Standorten machten. Wir haben wirklich genossen, was wir gemacht haben und sahen ein großes Potenzial in Nürnberg. Auf der einen Seite gibt es in Nürnberg viele Menschen, die elektronische Musik lieben, aber auf der anderen Seite sind die Möglichkeiten am Wochenende recht begrenzt. Die unglaubliche Location, in die wir uns verliebt haben, hat jedoch auch ganz klar unsere Entscheidung beeinflusst.
Nürnberg has the famous club 'Rakete', are you convinced the city is ready for a huge 2,000 pax festival with DJ's like Jeremy Underground, Fjaak, Vaal, Sven Dohse and Leon Licht? 
Definitely – Nuremberg has a lot more to offer, especially in the "underground" scence.
Definitiv – Nürnberg hat noch viel mehr zu bieten. Vor allem in der "Underground" Szene.
Who's the team behind the scenes? / Wer ist das Team hinter den Kulissen?
We're a bunch of old friends and have known each other for over 12 years. Initially our shared passion was Basketball and at some point, it turned out to be electronic music.
Wir sind ein paar alte Freunde und kennen uns seit über 12 Jahren. Zuerst war unsere gemeinsame Leidenschaft Basketball. Irgendwann stellte sich heraus, dass es auch elektronische Musik ist.
+++WIN+++
You have the chance to win two tickets for the festival. Check out our facebook page and tag your festival buddy in the post comments by Sunday, 2 April at the latest. Good luck!
0 comments