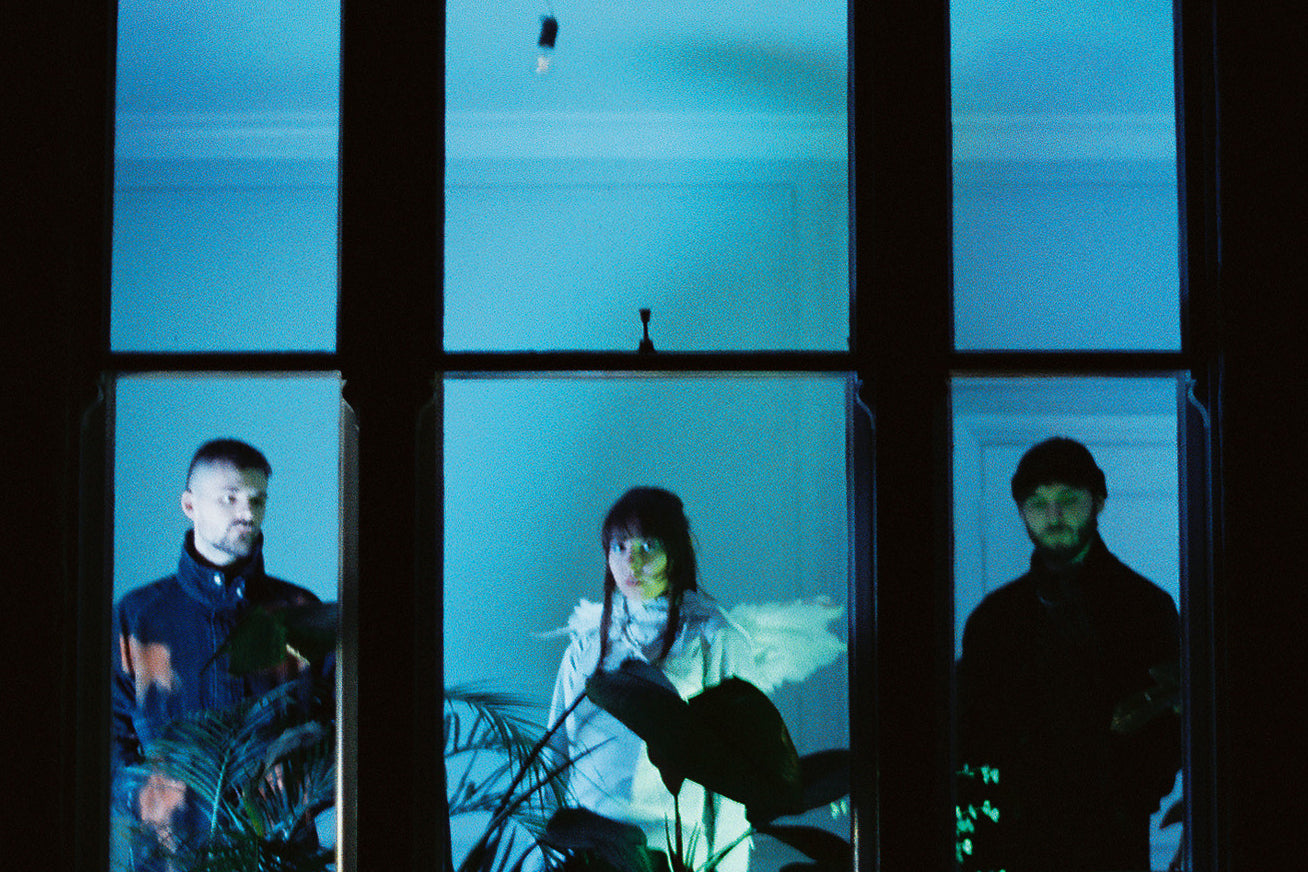 Night Tapes started out as evening jams between housemates Max Doohan, Sam Richards, and Iiris Vesik, in London. Nighttime in London, genre-blending, multi-fidelity recordings, and honest reflection contribute to their atmospheric soundscapes, ultimately creating fresh and envelope-pushing dream pop. Night Tapes draw inspiration from both their lived experiences in the world they can see and touch, as well as the less tangible spiritual and metaphysical realm.
In this Tallinn Electronic Music Travel Guide, frontwoman Iiris shares her ideal weekend in her hometown of Tallinn.
Tallinn is my home town, where I was born and where I lived before moving to South London - the place where Night Tapes was formed and is based now.  
Tallinn is my home town, where I was born and where I lived before moving to South London - the place where Night Tapes was formed and is based now. Tallinn  has always had a special spot in my heart as I lived in Old Town when I was young. It's a place that has a very special medieval magical vibe going on. Especially during winter when we have a beautiful Christmas market- known to be one of the biggest attractions to visit. Despite being relatively small, Tallinn is buzzing, yet strangely quiet at the same time. Everything is easily reachable & lots of cool things are happening right now in the music scene. We have lots of creative people with crazy ideas and a big start up scene. We often get called "The Silicon Valley of Europe". Tallinn is by the sea and surrounded by forests, so even on a busy day, you can find a  relaxing moment to visit nature. If you still haven't, visiting Estonia and Tallinn is a must. Here's my guide for a perfect weekend in Tallinn - recommending to divide this plan into two days.
Morning Coffee at Tallinns Old Town
A good day starts with coffee to properly kickstart the day. You can explore the central or old town; hot spots for a hot drink would be RØST Coffee Shop or Pulla Bakery, both of which have a wonderful selection of pastries with a Nordic touch. After that, you can walk around the medieval old town and visit the city viewing platforms like Patkuli to get a panoramic view of Tallinn.
Stroll through the hip Neighbourhoods Kopli & Põhjala Tehas
If you're a fan of more alternative routes, then you could start from the Kopli and Põhjala Tehas area, which is a new hip area - a lot of freelancers and creative people have offices there. You could grab a coffee and/or pies from Karjase Sai or Kiosk nr 3 (also has a bookshop inside!) and go for a little walk in the previous Kopli liinid, which used to be abandoned but has been recently renovated. It has a beautiful view straight to the sea - if you're brave enough you go for a swim. A lot of Estonians are into winter swimming, so they go to swim in the sea the whole year round - this apparently has health benefits, if you do it continuously! If you want to go for lunch or dinner, there's Barbarea Restaurant, which serves wonderful pizzas and other types of food. If you want something more low-key there is a good burger place called VLND Burger, which serves hand-made burgers from local ingredients.
Music, Art and Culture at 
Telliskivi Creative City
Spend daytime exploring the Telliskivi Creative City - an artistic and hipster district filled with boutiques, street art, and cultural spaces. On the way from Telliskivi to Balti Jaam, you can hop into Terminal Bar & Records to dig out some music or have a refreshing drink. Don't miss the Balti Jaam Market - a vibrant food market where in the upper floor you can find some cool vintage and seconds hand shops (Basaar, Sõbral Sõbrale, Sveta Vintage, Khuul Shop) and local market ladies, who deliver different kind of goods from socks to cool sunglasses. Not far from that area is Linnahall - it's a permanently closed, but awesome soviet era building which used to be a concert hall. You can see the unique building from the outside- hang out on the roof and have a good view of the sea of  ships coming from Finland. Fun fact: the movie "Tenet" and the Alan Walker music video have been filmed there.
Walk to Kadriorg and visit the Contemporary Art Museum KUMU
If you still have spare time, you could have a nice walk from the city to Kadriorg through Reidi tee. Kadriorg has a beautiful park and a palace building to hang out at. You could have a picnic, enjoy the Japanese garden and its fontain and then later head on to our contemporary art museum KUMU. The building itself is a beautiful architectural piece and you'll get a glimpse of the Estonian art world through different times. You can see the influences from different cultures. If you're feeling hungry, then head to NOP Café for a clean and healthy food selection.
Try the best Cocktails of Tallinn
If you're into aesthetics and the world of flavours, there is no better place to discover the best cocktails in Tallinn than Botaanik and Whisper Sisters. Both are filled with wonderful and well-thought out interior elements. Total eye candies. They are kind of hidden gems - it's good to book a table in advance, because during weekends they get busy! These places serve artisan cocktails as experiences and art pieces of their own.
Tallinns best Venues for Concerts and Club Nights
A good evening ends with a nice concert or a party. There are some pretty cool and exciting new venues in town that always deliver a diverse lineup of performers. These include Paavli Kultuurivabrik, a new and exciting venue with several indoor rooms and a beautiful garden area located near Kopli, Sveta, which is known as the heart of the alternative scene, Telliskivi, an art deco-style venue located next to Balti Jaam, and HUNGR, a new DIY queer venue that mostly hosts parties with a lineup of DJs.
All the other spots usually have either live gigs or DJ nights, so you will need to check Facebook events or their Instagram to see what's happening on a specific day!
Connect with Night Tapes via their Instagram | Facebook | Spotify
Want to discover more inspiring destinations and let you guide by local artists? Check out our destinations page or scroll through the latest articles in our magazine.
Copyright pictures by Night Tapes or as mentioned in Alt text
0 comments