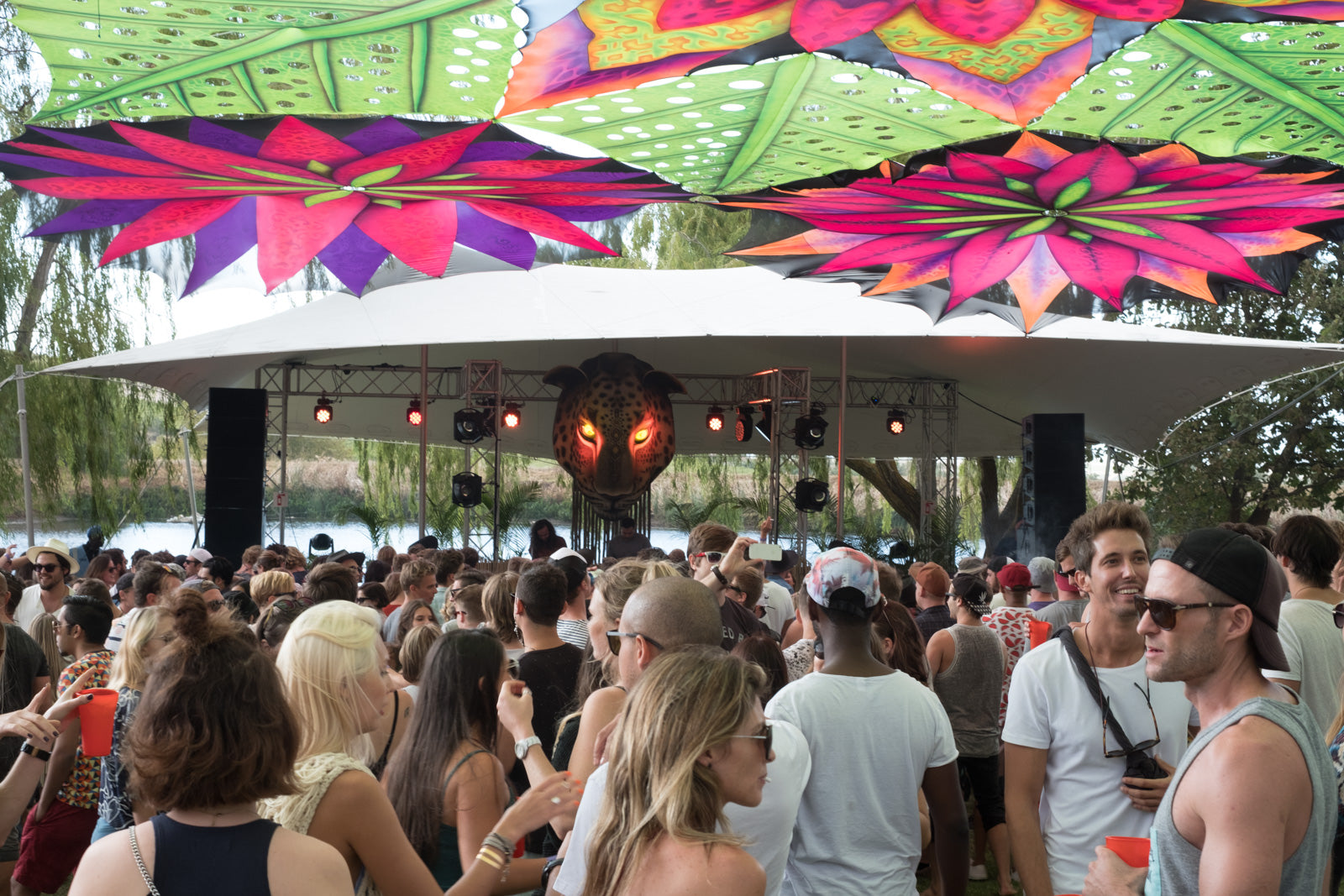 Sexy Groovy Love in Cape Town
0 comments
A colorful "jungle" festival in a vine yard near Cape Town: Sexy Groovy Love. Surrounded by lush gardens, filled with hypnotic sounds and relaxed party animals. The groove guide included the French guy Joachim Pastor and many cool local DJ acts.
The day started very smoothly with funky, groovy sounds. Time to relax, to sit on the grass, enjoy the light sounds and the content of one of the picnic baskets, filled with bottles of vodka and soft drinks. The colorful jungle roof blew gently in the wind above us. Wild animals surrounded us (do not feed!) as well as tons of beautiful people, moving their hips to the music.
"As day turns to night, so the Jungle comes to life with colours and shapes that will reveal themselves in the twilight. It's then that you'll be truly embraced by the Jungle's magic and perfectly at peace in the company of the like-minded partygoers around you."

 
Hypnotic sounds filled the wine estate when Joachim Pastor entered the stage. The only thing I could do is to breath in the special atmosphere, filled with chilled people, a breath of weed and a warm summer breeze. The perfect ending for me before I needed to leave beautiful South Africa.
Interview with Chris & Shaun, festival organizers
Tell us about your festival concept and the philosophy behind it.  
Sexy Groovy Love (SGL) is a project that was brewing within us for a very long time. We wanted to create something that was focused on more than just the music! Our aim has always been to offer partygoers real value in every form possible, starting with the location. From the location we derive a suitable, relevant concept and build from there. Basically, we want to offer people a unique experience where they can get lost in a beautiful venue, eat delicious food, stumble across beautiful decor concepts and listen to top local and international artists. We pride ourselves on our production value. This is something we do not hold back on – we work long and hard on visual concepts that tie in with the music, ensuring that our guests get visual stimulation as well.
How do you perceive the music scene in Cape Town?
The electronic music scene in Cape Town is well established, continuously growing and in a very healthy place. Every week, we are spoilt with choice as there are a number of high quality events showcasing talent from near and far. The fact that the areas around Cape Town are so beautiful has also helped this to some extent, as it has developed a large outdoor culture – promoters have been moving events outdoors for some time now, starting with the trance culture over 20 years ago. More and more people have attended these events and been exposed to a wide array of electronic music because of this. There is a large increase in the number of talent travelling from across the world to play in South Africa, which is always exciting to see. But the talent at home can definitely not go unnoticed! Many South African artists are making waves on the international charts and playing abroad, which is where we see the real growth in the scene!
In your opinion, is there a special trend in the scene right now? 
The electronic music scene is constantly growing in Cape Town, with European style house and techno becoming more popular by the day. African style house music has been around for decades and is making it big in Europe at the moment with the likes of Black Coffee touring Spain, Netherlands, Switzerland and even as far as the United States. The trance scene continues to be very strong and well supported in Cape Town. In fact, Cape Town has been said to be one of the trance capitals of the world! From an events point of view, the trend continues to move outdoors! There are new one-day outdoor festivals popping up every week, which is great to see. From October to April, there are outdoor festivals happening every weekend and on many weekends there are many to choose from!
Who are your favourite local artists? 
We have so much talent in this country and it is so great to see many of them getting recognised by some international heavy weights. We must make mention of Ryan Murgatroyd, who has headlined two of our events now. Ryan has a beautiful sound and has established himself as a unique artist – we feel that his style fits perfectly with SGL! He has been producing music on international labels and receiving mentions from legends, such as Solomun.
Pictures by Tim Köck Photography
0 comments