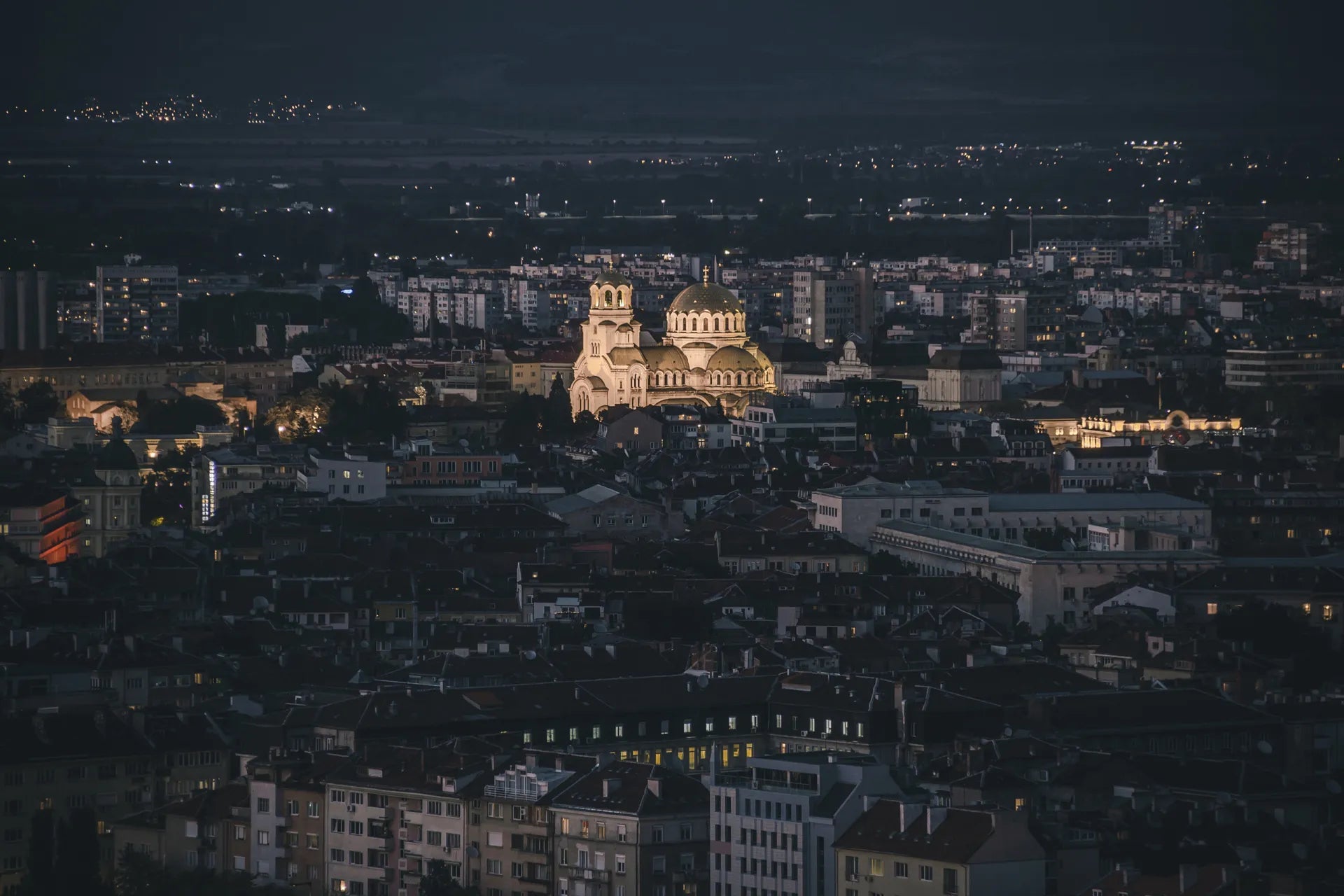 Bulgarias capital is a lively city with a lot green parks, sights and is home to well-known DJ and Live-Act KiNK. By strolling through the city of Sofia, one will find a variety of young, but tradition embracing gastronomical concepts. The local electronic music scene is a small one, but recently founded crews and events are creating more and more impact.
Bulgarias capital has many places where young people meet during warm summer nights. And exactly during that time the city shows it's beauty to the fullest. Most of the public places are crowded with young and old people and it's a cosy live-together. One hotspot, where this happens is the Crystal Public Garden. Grab a beer at one of the bars there and enjoy the sunset with your friends. Another famous park is the National Theater Garden where you can even watch the fountains dancing their daily choreography.
One of the most popular neighbourhoods among younger people is Shishman Street. It's knows for countless stylish bars and restaurant concepts as well as second-hand and art shops.
This livelihood of the city is contrast to the latest history of Sofia, which includes the fall of communism in 1990. These contrasts can also be seen in the architecture that is coining the city's image. Communistic houses filling the streets next to pageant and majestic governmental buildings. Although there are many wealthy people in the city – which also can be seen on the popular bottle service in clubs – Bulgaria is still one of the poorest countries in the EU. Nevertheless the joy of living in-between the population is a big one.
What catches one's eye when strolling through the city are the different houses of God in the center. The 'Square of Tolerance' houses five out of three world religions.
Sofia's Electronic Music Scene – where the Underground still lives
Sofias electronic music scene draws it's very own storyline. At the beginning of 2000 electronic music hit the country massively said Liubo, a local DJ and promoter. It all started with street parades and illegal parties. Nowadays there is still a rave scene, although it's a quite small one. It's home to a bunch of great artists like Garo or Liubo. Without any doubt, the most famous Bulgarian export is KiNK. The good news first: underground parties still exist as it's still easy to find old and empty warehouses in Sofia. Every now and then there are small unannounced gatherings in Sofia. Connect with locals in the parks or bars, to find out where they'll take place.
Local DJ Liubo Ursiny states that a promoters' life is not the most easy one in Sofia. It's hard to predict the audiences' choice. He mentioned that on top of that, there comes the tough competition from the countries around. A Ryanair flight to Greece might me cheaper than a club entry in the city's clubs. One of the main reasons for the situation is the restricted budget of the audience. Additionally and other than in Western European cities, music tourism only makes 15-20% of the guests, according to Liubo.
On the other side Liubo further stated, that new collectives, event series and clubs are popping up and constantly bringing a new impulse to the city and it's scene. Some of them even grew their underground parties so big, they opened a club recently.
Clubs, Collectives and Record Shops in Sofia
Yalta Club is one of the oldest clubs of Sofia. It originally started as a cafè but from 1991 on opened it's doors also for dancers. Back then it was focused on foreign students, but now it's mainly focused on electronic music and is bringing acts like Peggy Gou, Chris Liebing and Solomun to Sofia.
EXE Club is run by a young collective that managed to established their club nights since three years now. With their events and club nights, the guys bring fresh air to the local scene.
Micro record shop offers drinks and vinyl during the day. During the night one can visit this spot for events and club nights.
Metropolis is a Bulgarian promoter of dance music events and related parties. They are also one of the longest standing crews of Sofia.
Find out more about the local scene within our interview with Liubo Ursiny, resident of Yalta Club:
The best Restaurants, Cafés and Bars in Sofia
Eastern Bloc chic meets a broad selection of the local drink 'Rakia', a fruit-based brandy. Retro communism items coin the interior of the restaurant that is serving local food, interpreted in a new and modern way. The must-visit-place for all meat lovers.
Right next to Raketa Rakia restaurant, you'll find the Sputnik Cocktail-Bar. It serves as hotspot for the young locals, starting as café during the day and offering extraordinary cocktails and parties during evening hours.
The slogan of the Italian ice-cream place is 'Slow Ice-cream'. The reason behind: Only fresh local and natural ingredients are processed into delicious ice cream. The result are intense tastes like honey-poppy-seeds or fruity sorbets. It is located in the trendy Shishman street and worth a visit.
Starata Gospoja means 'the old lady'. It's a relatively new and fancy brunch restaurant with nowadays classics: Eggs Benedict, avocado toast and smoothies. The brunch spot is located in a beautiful and vibrant neighbourhood with lots of cafés and other hip places.
Sofia's best spot to grab a traditional Banitsa is the bakery 'Hle Bar', located right next to Starata Gospoja. It's dedicated as hipster bakery, but worth every bite. Banitsa, the börek style pastry, can be ordered in the salty, traditional way, or as a sweet variety.
'Bakery, breakfast, coffee shop, daily seasonal menu, organic shop'
This indoor and outdoor bar in the heart of the city serves organic and vegan cocktails among other tasty mixtures. It's located in the area around Doctors' Garden and perfect for warm summer nights with friends before entering a club.
One of the most famous places among the local scene is Made In Home. The vintage interior is created with a lot of attention to detail and such is the menu. Traditional dishes, presented in a new and mostly healthy way. Make sure to book a table in advance, as this place is quite busy.
Situated in a beautiful blue house with a wonderfully decorated yard, lays the sister restaurant of 'Made In Home'. The two floor house is furnished in a vintage DIY-look which draws a special picture. The menu reveals tasty and healthy dishes, such as goat cheese on bulgur, topped with strawberries. Tip: make sure to try the blueberry cheesecake.
What are your favourite spots in Sofia? Join us in the closed community for techno&travel lovers worldwide and share your thoughts with likeminded people.
Cover Picture by Alexandr Bormotin on Unsplash
0 comments