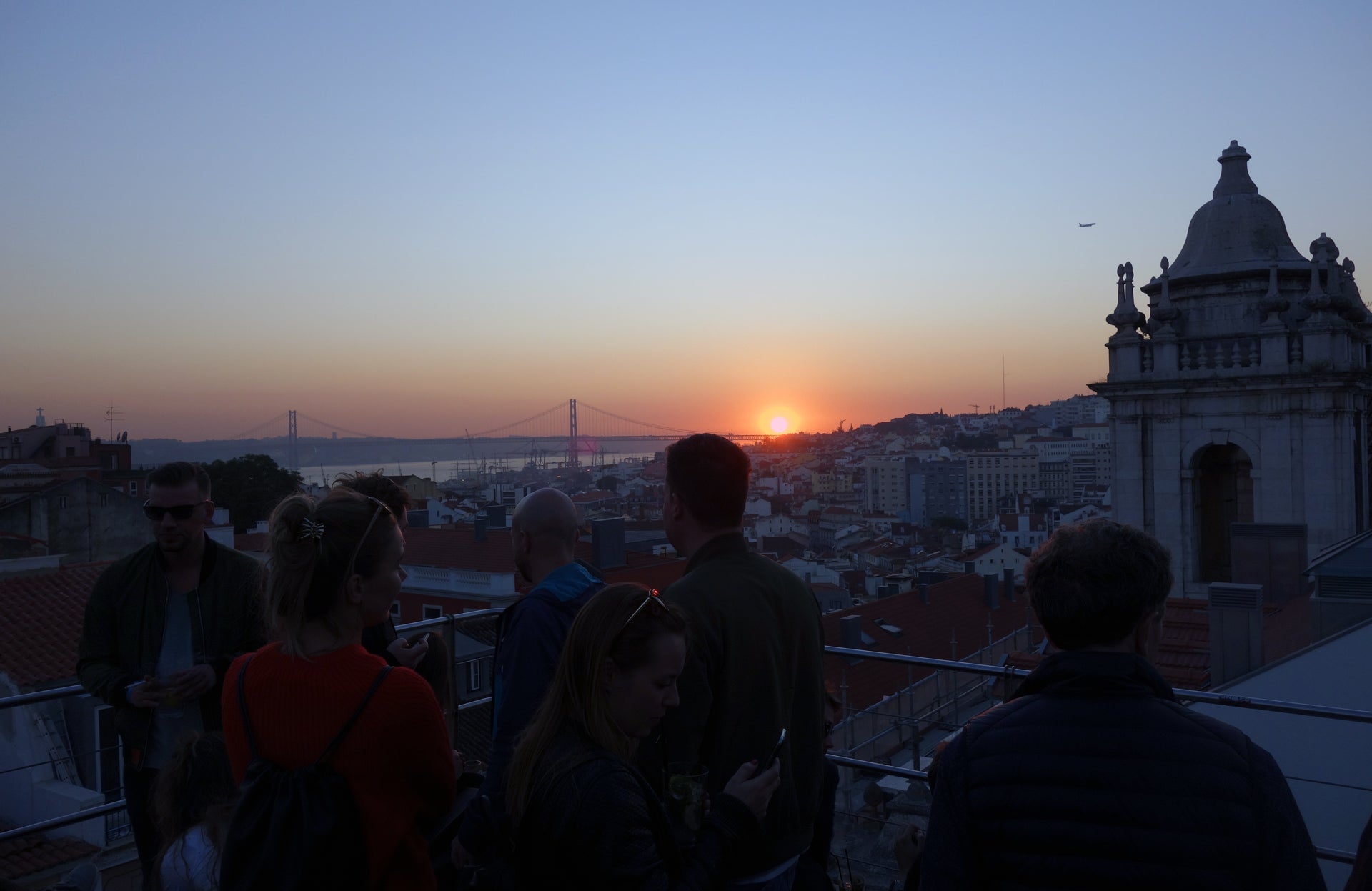 Portugals capital Lisbon can be described as versatile and flourishing but also as a traditional and historical city. Visiting it after six years again, I was so impressed by what has happened there in between. A lot is going on in the young creative scene of Lisbon. In this article you'll find upcoming and classical hot spots for a weekend trip and some insights in the local techno scene, as well as the favourite spots of a real techno local: Rui Vargas.
The best Bars, Restaurants and Cafés in Lisbon
Pastel de Nata, good wine and a creative food scene. The city of tiles offers great new gastronomical concepts at every corner. Here are a few of them and also some of the classical must-sees.
The very best pastéis de nata in the whole wide world. A crispy puff pastry and a heavenly pudding cream. On top a brise of cinnamon and you never want to leave this place. Every time you hear the bell on the square ringing, you better be quick, because this is the sign for oven-fresh, warm pastels. Hop in the shop, enjoy your pastels and watch new ones in the making.
The journey to this hidden place is already an adventure. After finding your way through a car park, you will arrive at this hip place on top of it. A nice rooftop bar and café that is also offering great snacks and burgers. The most remarkable fact is the sunset, as this location is offering a great view to the sea and Lisbons famous bridge 'Ponte 25 de Abril'.
On their website it says:
'The Clube de Jornalistas is a restaurant with its own rhythm and personality, suited for those who are receptive to having a loose and unengaged experience. We believe in food with intention prepared with emotion.'
The restaurant is a space with a various setting in every room. During summer time you also have the chance to enjoy an evening in the beautiful backyard. Brazilian chef Ivan Fernandes creates outstanding dishes and the wine list reveals Portuguese treasures.
Chef Susana Felicidade enriches her tasting menus and tapas with market-fresh Portuguese specialities and Mediterranean influences that dare to be different.
Details in this restaurant concept and the cocktail names still remind of what it used to be before: the former National Association of Pharmacies building. So don't be surprised when your water comes in a pill bottle.
In 'The Mill' you'll find traditional Portuguese breakfast options combined with international creations of the Australian owner, which is also mirrored in the great coffee selections. Avocado toast, granola, banana bread, fresh orange juice, everything that guarantees a great start into a new day. To all the digital natives out there: wifi and plugs are available.
Take Lisbon's first private lift to the rooftop restaurant of this 19th century house in Bairro Alto, which is now a boutique hotel. Up there you can enjoy a breathtaking view of the Castle, old Lisbon town and Tagus river while enjoying the creative modern cuisine. The smoked duck and the steak should definitely be on your list.
A new way to explore the city by boat, sailing towards the sunset. Pass by Belem Tower, Discoveries Monument, Old Tower, Ponte 25 de Abril bridge and Cristo Rei, Lisbon Downtown, Commerce Square and St George Castle while enjoying a glass of wine on the boat with max six other people.
Electronic Music Scene in Lisbon
The music and art scene in Lisbon is booming since a couple of years. It kind of reminded me of Berlin ten years ago with all its open spaces that are a breeding ground to the subculture. Lisbon is a flourishing scene that is hosting many new festivals, artists and happenings.
I had the chance to attend one night at LUX Frágil when Rui Vargas was playing. The PA and the booking of this club is fantastic. Find out more about the concept, the idea and the development of this thriving spot within the interview with Rui Vargas, musical director of LUX.
Clubs in Lisbon
Another creative venue with great art and musical concepts is Musicbox. It is also home of the Príncipe Label.
A lot also happened in Lisbon in terms of festivals. The most important ones for the electronic music scene are the Lisboa Dance Festival in March taking place at the LXFactory, as well as the Lisboa Electronica in April. The latter is organised by Inner Balance, the new sister label of Balance Recordings.
LXFactory and the subsequent Village Underground Lisboa are quite important locations for subculture in Lisbon. To say it in their words:
'An urban fragment, kept hidden for years, is now returned to the city in the form of LXFactory. A creative island occupied by corporations and professionals of the industry serves also as stage for a diverse set of happenings related to fashion, publicity, communication, fine arts, architecture, music, etc.'

'Village Underground is a certificated creative incubator space, a coworking community and a creative events destination. Its unique architectural structure is made from shipping containers and double decker buses, recycled into office spaces, a café and conference room. A landmark in the Lisbon landscape, Village Underground is home to a new creative community.'
Rui Vargas was accompanying the birth of electronic music in Portugal and is still determining influencing the sound in Lisbon as musical director and resident of Lux Frágil, Portugal's most internationally renowned venue for electronic music. He is the perfect interview partner for guiding us through the scene right from the beginning by the end of the 80ies until now.
I asked Rui what he would recommend if he would have friends visiting him for one day in Lisbon. Here are the favourite spots of a real techno local:
Breakfast at the terrace of Benard
Tuesday or Saturday: Lisbons flea market 'Feira da Ladra'
Lunch with Classic Seafood at restaurant Ramiro
After lunch: walk around Castello and Alfama
Afternoon: Boat tour from Cais do Sodré to Cacilhas
Dinner at restaurant Atira-te so Rio
Drink at RIVE ROUGE
Musicbox for a second drink and great music
Lux from 4 am and watching the sun rising on 6 am on the terrace
Personal techno tips Rui Vargas mentioned in the interview:
LISB ON
 festival taking place beginning of September in a nice garden location.
Radio Quantica
– a platform for underground Portuguese artists and activists.
Extended Records
 is a portuguese art collective of young DJ's and dance music producers exploring the alternative electronic dance music scene.
Paraíso
 'Underground house music from a paradise called Portugal.'
The bottom line is: I can definitely recommend this city to all techno&travel lovers out there. It's not too developed in terms of tourism, that's why it still offers great spots where underground and subculture can be lived.
0 comments