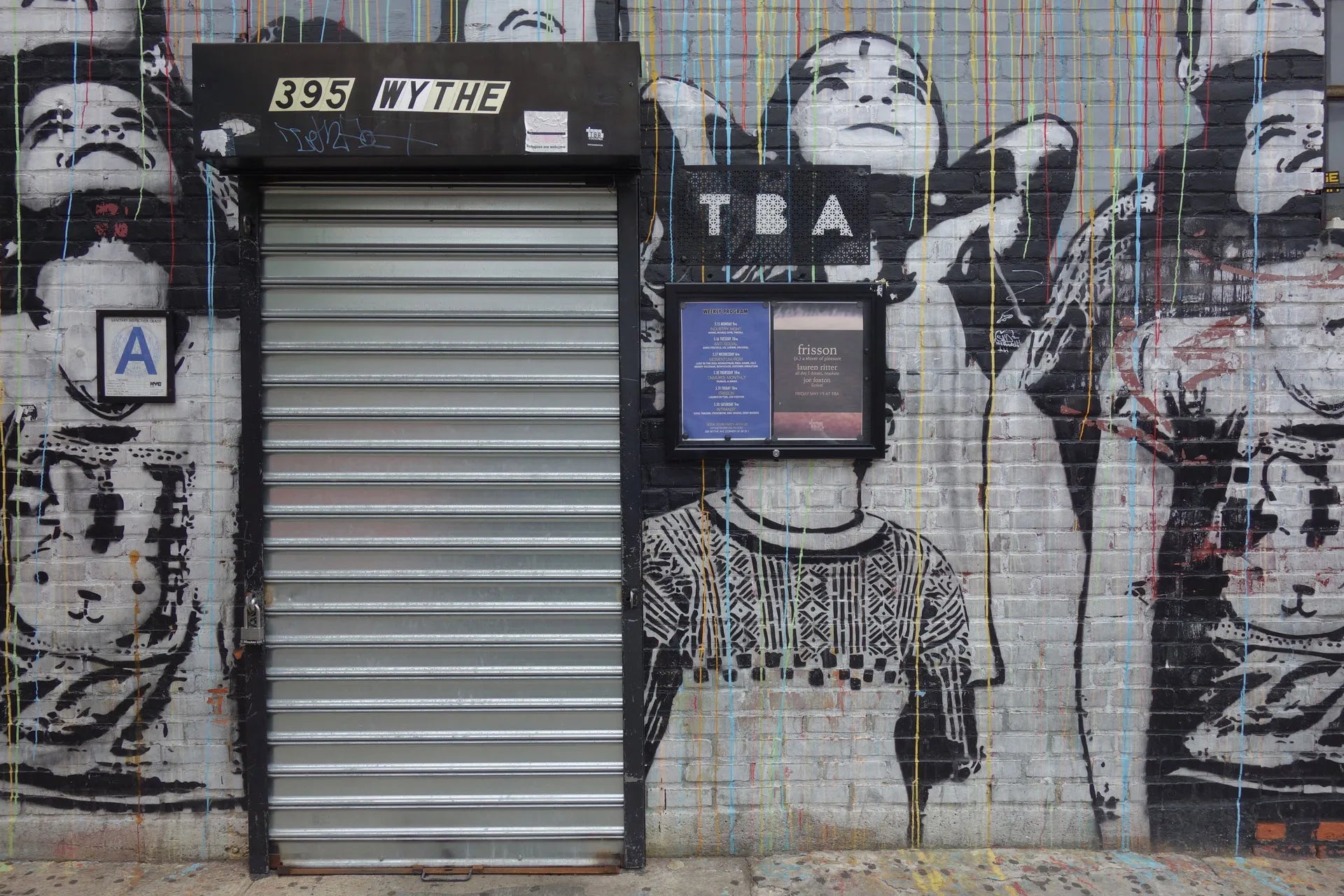 Interview w/ TBA Brooklyn about NYC Electronic Underground
0 comments
TBA Brooklyn is the paragon of New York City underground electronic music. The club is located next to Williamsburg Bridge in a converted garage, like where it all began back in the 80's. It's home to the local techno and house music artists and the whole NYC underground scene.
'TBA Brooklyn is where the underground lives'
 Thank you so much Memo and Gio for having us. We are curious to get your insights on the scene and your spot. How would you describe the concept of TBA Brooklyn?
We are more a social club than a big club. It's like a meeting point for artists: electronic music artists & street art artists. Some people call it the cheers of techno. Everybody knows each other and we are all friends. As TBA is also a bar, everybody comes here to socialize and to see their friends. That size kind of gives us freedom to do what ever we want and we like to keep it more underground. We don't have big investors either, so I would say TBA is the home of the underground.
Sounds fantastic, so you also combine different art scenes?
Yes, we also have a lot of street art here. Basically it's a local hub for arts and music.
As you said you are focusing on the local underground scene, how would you describe the sound in NYC?
New York sound is a lot of house music, dub techno and some tech house. New York local DJs mash up a lot, e.g. new releases with the old house music like Chicago and Detroit sounds. Compared to the west coast the sound is not a happy sound, but of course danceable.
You mentioned Chicago house and Detroit techno. In your opinion: what is left of that?
There is a lot left of that and it's coming back actually. A lot of the music is going back to its roots, that's what we really like. We don't book everybody here. We have promoters, but they are our friends and they know what we like. We know who's going to bring what.
EDM is very popular in America right now. Do you think it will change or still be popular in the future?
It's not going to go. I mean EDM is much more for the younger crowd, that is around 18. People start with EDM, it's kind of an entry level to electronic music. As soon as they get educated in electronic music, they start to move towards what we cater for.
If you would need to name four or five local artists, who would be the most talented ones?
There are a lot. Volvox has got a lot of awareness, also A. Arias, Taimur Agha and K1W1. We could name 20, but actually we prefere not to name one specific one, there is a lot going on here in NYC.
What do you think the techno sound will be like in two years?
I see a lot of darker and heavier techno coming back. Also some new New York artists get some attention globally. Usually the ones that play harder techno. The artists we mentioned before are getting a lot of awareness, so probably it's going to that direction. But it's hard to predict, because everything changes constantly. Minimal for example was big some years ago and all of a sudden it has died.
I also got the feeling that Berlin techno is getting harder again, right?
Yes, I think New York is kind of following the Berlin sound. A lot of artists moved from here to Berlin or when they come back from Berlin they get booked here a lot. When they come back, they are super influenced by the sound there and play completely different. It changes the way they play overnight. A lot of Berlin people are also coming to New York and say 'Wow, this is like Berlin!' To us it's not rocket science. We created that environment that we really like as well, like to party and have drinks. Nobody is denying that we follow the Berlin sound.
I also got the feeling that the techno scene all around the world is connecting even closer, right?
Yes, that's right and the New York scene is very well connected, although it's not that small anymore. We have like 75-80 promoters but everybody knows each other. Down the road, the NY scene has been alive by the last ten years. So we are all friends, there is of course competition, but there is also always space for more. For example we did a fundraising for a friend of us who got cancer and we brought in 50 of the NY promoters and clubs, so they all hosted this fund raise and we almost raised 20,000 Dollars for our friend. It was great to see that everybody's coming together, that was amazing.
That's fantastic and a good example of what the scene also stands for. Is there anything special you would like to do produce or organise here at TBA in the future?
We're very established by now. Basically we just want to keep the quality. We go for quality rather than quantity, like we don't promote our club in commercial magazines. We just post the parties on a couple of websites. So we want to keep doing that. Also because our capacity is very limited and we want to know who is coming to our club. Maybe we want to open a rooftop and a beer garden upstairs to make it even more social during the day.
Thank you so much for the interesting interview Gio and Memo!
Facebook I Website I Instagram
Pictures by TBA Brooklyn & tunes&wings
0 comments